Steve Kaufman - Back in New York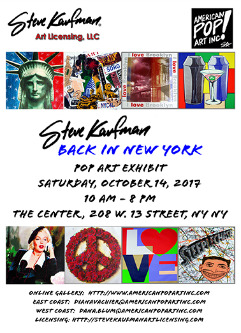 POP Art Exhibit
Saturday, October 14, 2017
10 AM - 8 PM
The Center, 208 W 13 St
New York, NY 10011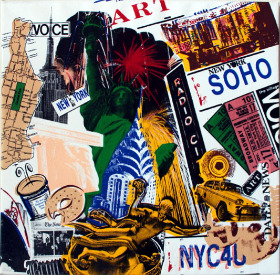 SPECIAL THANK YOU TO THE CENTER. BROWSE OUR PHOTOS!
Steve Kaufman "SAK" (1960-2010) was a charismatic pop artist, humanitarian, and pioneer of Neo Pop Art. In his early years, Steve Kaufman assisted Andy Warhol where he learned the art of silkscreening. After leaving the Warhol factory, SAK evolved the art of silkscreening by embellishing with oil paint and vivid colors that were embraced globally. He painted icons and trends that stirred the American spirit. This is American Pop Art, Inc.'s first exhibition in NYC since Steve Kaufman's death, and dedicated to his classmate Keith Haring and the work of The Center.

This exhibition was arranged by members of The Center, and organized by AMERICAN POP ART, INC. and STEVE KAUFMAN ART LICENSING LLC, with special thanks to our host THE LESBIAN, GAY, BISEXUAL & TRANSGENDER COMMUNITY CENTER. Since 1983 The Center has been supporting, fostering and celebrating the LGBT community of New York City, and providing programs for health, wellness and community connection. The Center has a rich history and a vibrant Arts & Culture presence.
CLICK HERE to support its work.